Introducing the approach
Introducing the approach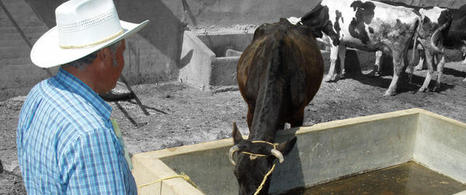 The objective of this phase is to make water service providers and users aware of the potential and the limitations of multiple-use water services in a certain context. This phase should be the starting point of introducing MUS in areas where the MUS approach has not been applied before. In areas familiar to the 'intervener', where users, water service providers and service authorities are already familiar with MUS, this phase can be limited to setting expectations and conditions of a planned intervention.
ACTIVITIES
Potential and limitations for implementing or improving multiple-use water services are determined by factors related to the local context and factor related to the intervention project or initiative. In this phase, activities are to be undertaken to make these explicit.
GETTING TO UNDERSTAND THE CONTEXT
Obtain insight in the context of the water users. This is important for determining limitation and potential of MUS. This can be done by (broadly) identifying main livelihood activities, existing social and institutional arrangements and relationships, uses and demands for water, existing water resources and infrastructure, etc. The insight gained in this phase, can be further developed and deepened in Phase 2 through a more detailed situational assessment. In this phase, it is sufficient to obtain the amount of information that can support a well-informed discussion on potential and limitations for MUS in the local context.
RAISING INTEREST ON MUS AT USER AND SERVICE PROVIDER LEVEL
Raise awareness of water users and local service providers on multiple-use water services. Although water users do tend to use water for multiple uses, there is a need for raising the awareness of the water users and service providers of the concept of multiple-use water services. This requires stimulating out-off-the-box thinking, going beyond sectoral boundaries. Besides raising awareness of the potential for MUS, also the limitations for MUS caused by the contextual factors of the community can be discussed.
SETTING EXPECTATIONS AND CONDITIONS
Be clear on the conditions and manage expectations of water users and service providers. Multiple-use water interventions will come with their conditions, set by the 'intervener'. These conditions can include the preferred MUS entry point, technology preference, but also budgetary and resource restrictions. It is important that these conditions are made clear to the community, in order to prevent raising unrealistic expectations. This entails roughly indicating available budgets and, above all, articulating the water uses and livelihood benefits that are envisaged to be met, and any predetermined technology. Part 3 deals with how interveners can be stimulated to widen these conditions.
TOOLS
Several of the tools mentioned here can be used for getting better insight in the community, while at the same time raising awareness and interest of the community on multiple-use water services and it potential and limitations.